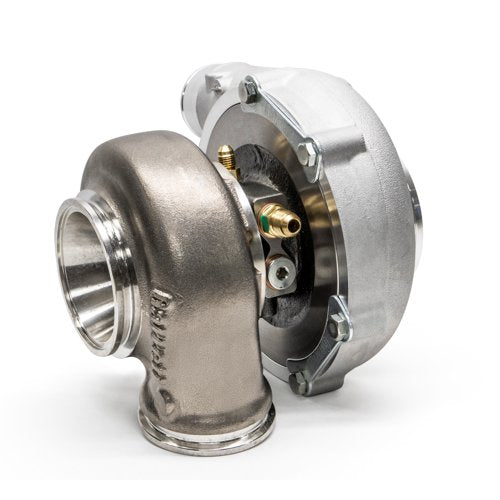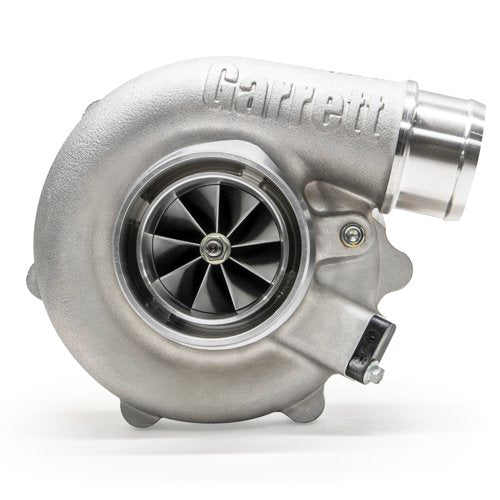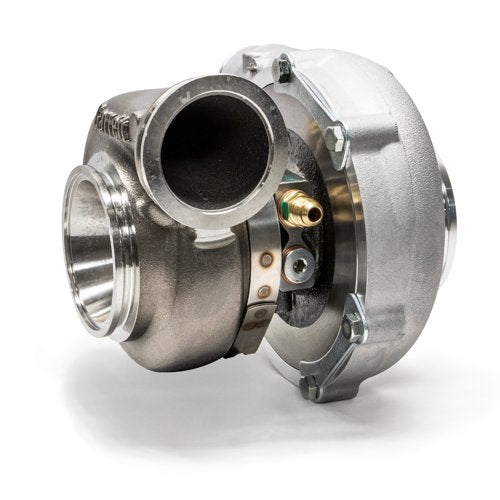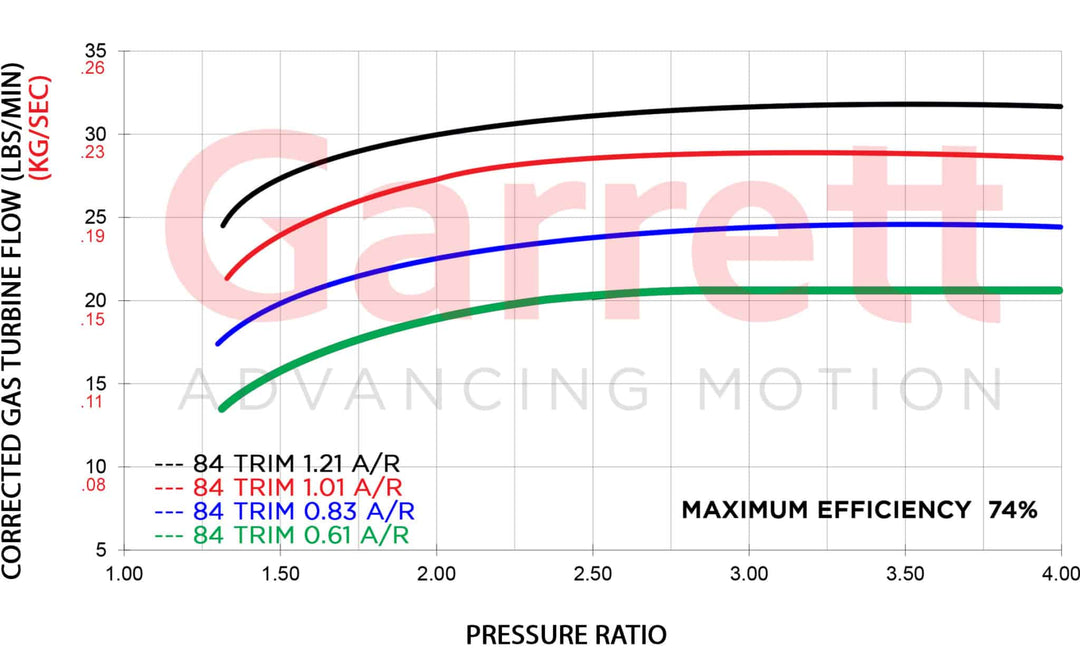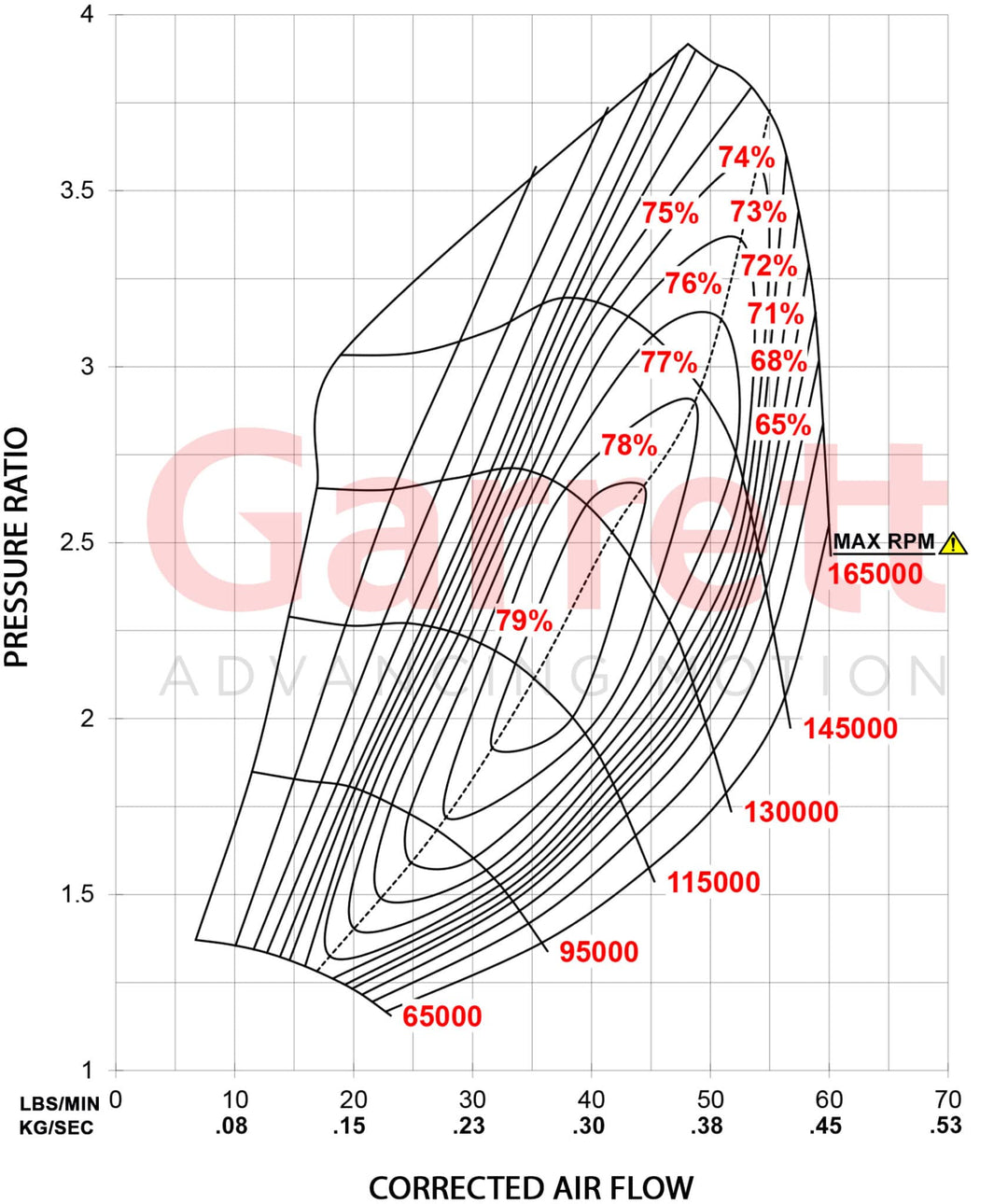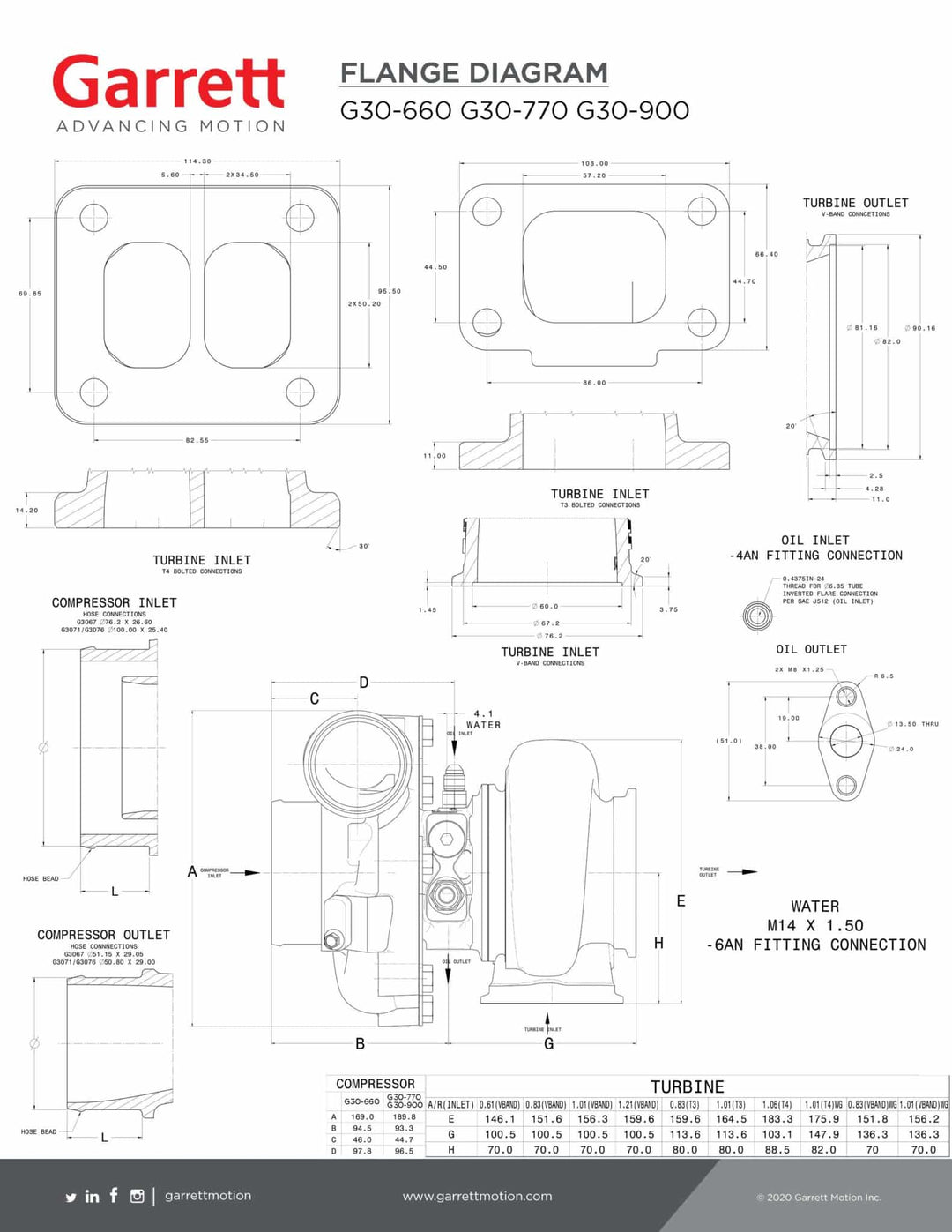 880693-5001S
Garrett G30-660 Turbocharger
Free standard shipping for purchases over $250 within USA
Introducing performance out of a package you never thought possible. This clean sheet product is tailored to meet the demands of hardcore racing enthusiasts while providing industry leading power capability in a small package.
The G-Series G30-660 turbocharger is compatible with 1.4L – 3.0L engine displacements and capable of producing up to 660 horsepower. G Series 30 turbochargers are highly efficient and will outflow all comparable products on the market.
New compressor and turbine aero combined with high temperature resistant materials allowed engineers to push the limits of performance.
Product Specifications:
Compressor Wheel Inducer: 54mm
Compressor Wheel Exducer: 67mm
Compressor Wheel Trim: 65
Compressor Housing A/R: 0.70
Turbine Wheel Inducer: 60mm
Turbine Wheel Exducer: 55mm
Turbine Wheel Trim: 84
Turbine Housing Inlet: 3 Inch O.D. V-Band
Turbine Housing Outlet: 3.55 inch (90mm)O.D. w/81mm centering ring V-Band
Includes Oil Feed (1mm) Restrictor Fitting to -4AN
Includes two Coolant Fittings to -6AN
Includes Turbine Housing Inlet & Outlet V-Band Clamps
Features
G SERIES COMPRESSOR AERODYNAMICS FOR MAXIMUM HP
54mm TURBOCHARGER COMPRESSOR WHEEL
79% MAXIMUM COMPRESSOR EFFICIENCY
MAR-M ALLOY TURBINE WHEEL RATED UP TO 1050° C
NEW TURBINE AERO PROVIDES HIGHER FLOW AND EFFICIENCY
STAINLESS STEEL TURBINE HOUSINGS RATED UP TO 1050° C
OIL RESTRICTOR AND WATER FITTINGS INCLUDED
FULLY MACHINED SPEED SENSOR AND PRESSURE PORTS
TURBOCHARGER ASSEMBLIES ARE CALIBRATED WITH A 0.5 BAR ACTUATOR
STANDARD ROTATION SUPERCORE 880693-5001S
REVERSE ROTATION SUPERCORE 880694-5001S
Compressor Aero
Forged fully-machined compressor wheel and new aerodynamics increase maximum horsepower output and boost response. The CFD (computational fluid dynamics) engineered compressor wheel increases airflow up to 15% for 60mm and 30% for 67mm with 79-80% efficiency. (Compared to GTX GEN II) Compressor wheel features 9 blade count and wider compressor maps for a larger operating area.
Available in standard rotation and reverse rotation options for enthusiasts that want the perfect twin turbo installation or a single reverse rotation turbo for applications with installation restrictions.
Center Housing
A new one-piece center housing and backplate increases durability and product safety by reducing the number of failure points associated with the turbocharger. The center housing to turbine housing v-band connection allows for 360 degree orientation when installing with Garrett® non-wastegated turbine housings. It also includes water fittings, plugs, and oil restrictor.
Water Jackets
Four large water jacket ports increase cooling capacity and allow enthusiasts to customize water line routing to help improve the installation process. The turbocharger comes with two -6AN water fittings and two plugs.
Oil Passage
A single stage oil passage directs pressurized oil to the new oil cavity ensuring proper bearing lubrication at both sides of the cartridge.
Each turbocharger includes (1) -4AN oil restrictor fitting with a 1mm orifice to provide the turbo with the recommended 40psi of oil pressure.
Rotating Group – Twin Piston Rings
A shorter bearing cartridge (8mm dual ceramic ball bearing) allows us to incorporate twin piston rings on both sides of the shaft wheel assembly. This will reduce the likeliness of oil leakage at the seals from the center housing to the compressor and or turbine stage.
Turbine Wheel Aero
The turbine wheel features all new aerodynamics to improve flow and boost response. The new turbine wheel is made of Mar-M, a super alloy that is capable of handling exhaust gas temperatures up to 1050 degrees C.
The new turbine wheel flows 5% more than GTX and has peak efficiency of 74%.
Turbine Housings
All G Series Turbine housings are made from stainless steel to provide ultimate durability and temperature resistance up 1050 degrees C.
Internally wastegated housings are compact, efficient, and designed with maximum bypass port size to reduce boost creep and provide better boost control.
Turbine housings are available in a variety of wastegated and non-wastegated, open volute, T25 and Vband configurations so be sure to order the correct part for your application.
3 inch (76.2mm) V-band inlet (same as GTX)
3.5 inch (90.16mm) V-band outlet (same as GTX)
V-band 0.61 and 0.83 configurations available at launch
Remanufactured/Rebuilt original turbo carry a 6 Month Warranty against defects. No gaskets included.
 *There is a $500 Core Charge included in price. Core must be received within 30 days to receive refund. If core is not received within that time the Warranty will be Voided. No Exceptions. 
 Returns are accepted ONLY for items purchased directly from MIC Turbo & Injection within 14 days of purchase in original condition and are subject to a restocking and handling fee between 15-30%. This fee will be waived if the parts received are not as described. 
Returned item(s) package(s) MUST include proof of purchase. Items will be verified, inspected, and processed upon receipt. Customer notification of item processing will be received via email and/or phone call. 
​Custom order items such as turbochargers or components, items that are damaged, missing parts, or not in original condition not due to our error will not be accepted for return or refund.
​Orders cancelled after 24 hours will be subject to a 10% restocking/handling fee. 
​Items purchased on sale, with a promo code, or clearance are final sale only.
 Refunds will be issued on original form of payment. No exceptions. Credit card refunds can be expected within 7-14 days.
Please contact us with any further questions.
We will accept exchanges for up to 15 days from the day of purchase. Only for in-stock parts, all out-of-stock parts will be subject to a 10% processing fee.
Items purchased on sale, clearance, or with promo code will be allotted exchange credit equal to discounted purchase amount. Item(s) MUST be in original condition. Damaged, modified, or non-original items are not eligible for exchange.
 
All in-house rebuilds carry a 6 month warranty while performance upgrades carry a 3-month warranty against part defects. New Cartridge ( Core Assembly, CHRA ) installation carry a 1-year warrant starting from original invoice date. We will replace or repair the defective part upon warranty approval at our discretion. Refunds will only be offered if the defective part cannot be repaired or replaced.
​
All new turbochargers and parts carry a full one-year manufacturer warranty against defects. Please note the manufacturer may require inspection which may delay the process and can take 1-4 weeks to issue/deny warranty; we do not have control over manufacturer protocol or processes. 
​
Any warranty claim item or turbocharger must be returned in as-is condition without cleaning, disassembly, or alteration for inspection. Any item presented other than as-is condition will be void of warranty. 
The warranty does not cover misuse alterations/modifications made by purchaser, foreign part damage, abuse, negligence, oil starvation, accidents, or any other installation-related damages. Coverage encompasses the actual part up to the original invoice value. Consequential damage, loss of profit, or any other financial loss resulting from failed parts are not covered. 

If a warranty claim results in providing a turbocharger/product replacement, then the warranty period for the turbocharger product replacement will be the unexpired portion of the original warranty period for the turbocharger/product that was replaced.

*Any turbocharger or item left over 30 days will be sold to recover costs. 
​
For any warranty claims, please contact us prior to sending the parts at 305-685-1061 or
via e-mail at support@micturbo.com
Cores must be received within 30 days of service or warranty is void. Core charges and refunds range from $350+ depending on the turbocharger and condition of the core. Cores with fire damage, missing/broken pieces, water damage, disassembled, or broken parts are subject to credit reduction or no credit. We are not responsible for any shipping damages.