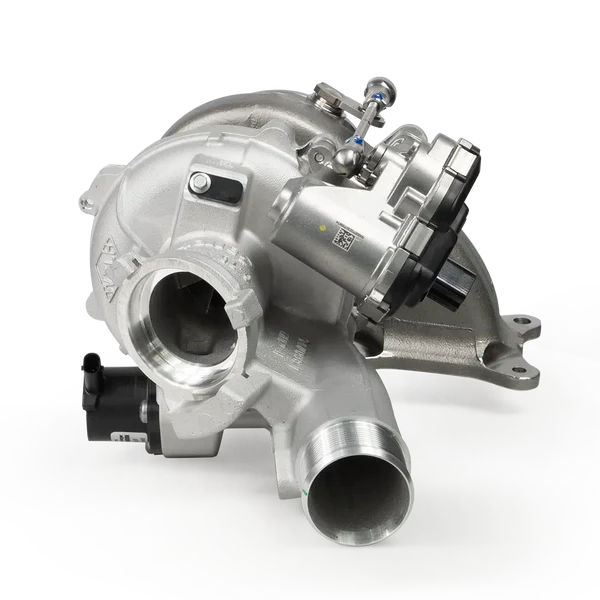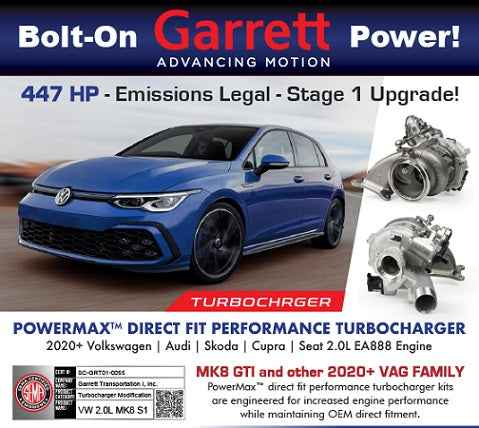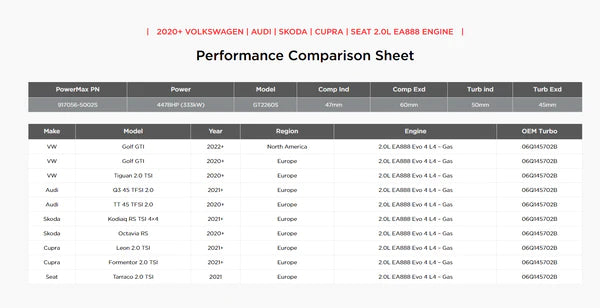 917056-5002S
VW MK8 GTI Garrett PowerMax Stage 1 Upgrade Turbocharger
Free standard shipping for purchases over $250 within USA
Introducing the Garrett PowerMax™ turbocharger upgrade for the 2.0L EA888 Evo4 engine platform. Engineered by enthusiasts, for enthusiasts, this turbocharger upgrade isn't just about boosting your engine's capabilities, it's also about packaging it into your vehicle's existing OEM setup. This complete turbocharger with electronic actuator can help the engine produce up to an impressive 447BHP (333 kW), as proven by on-vehicle results.
GTX Gen II compressor aerodynamics increase turbocharger flow by a staggering 32% compared to the OEM turbo. Embrace the future of power with the high-temperature Mar-M alloy turbine wheel, paired with state-of-the-art turbine aerodynamics and a robust twin scroll stainless steel turbine housing capable of withstanding up to 1050°C of heat. Elevate your driving game, and experience performance like never before with PowerMax™.
WARNING: Maximum allowable turbocharger speed is 186krpm. The use of this product above max turbocharger speed is at the owner's risk, and can result in damage and premature failure. To protect the turbocharger from overspeed when operating, a speed sensor port is machined into the compressor housing for the fitment of speed sensor part numbers 781328-0003 (includes sensor and gauge), and 781328-0004 (includes speed sensor). Speed sensors sold separately.
Features:
Complete assembly with electronic actuator




• Direct-fit turbo with 447BHP (333kW) capability (on-vehicle results)*




• +32% compressor flow compared to the OEM turbo




• GTX Gen II compressor aerodynamics




• Mar-M alloy turbine wheel and twin scroll stainless steel turbine housing rated up to 1050° C




• Latest generation of journal bearing rotating group with 360° reinforced thrust bearing




• +50% turbine flow compared to OEM turbo
*Performance results of this product are highly dependent upon your vehicle's modifications and tuning/calibration. The horsepower numbers represented above are based on actual on-vehicle testing. 
Performance Results: Horsepower (On-Vehicle Results)
Vehicle Modifications:

Location: Germany
GTI 2.0L TFSI (EA888 Evo4)
917056-5002S Turbocharger
Stock intercooler
Custom downpipe
Stock fuel system
Fuel – 98 octane unleaded
Remanufactured/Rebuilt original turbo carry a 6 Month Warranty against defects. No gaskets included.
 *There is a $500 Core Charge included in price. Core must be received within 30 days to receive refund. If core is not received within that time the Warranty will be Voided. No Exceptions. 
 Returns are accepted ONLY for items purchased directly from MIC Turbo & Injection within 14 days of purchase in original condition and are subject to a restocking and handling fee between 15-30%. This fee will be waived if the parts received are not as described. 
Returned item(s) package(s) MUST include proof of purchase. Items will be verified, inspected, and processed upon receipt. Customer notification of item processing will be received via email and/or phone call. 
​Custom order items such as turbochargers or components, items that are damaged, missing parts, or not in original condition not due to our error will not be accepted for return or refund.
​Orders cancelled after 24 hours will be subject to a 10% restocking/handling fee. 
​Items purchased on sale, with a promo code, or clearance are final sale only.
 Refunds will be issued on original form of payment. No exceptions. Credit card refunds can be expected within 7-14 days.
Please contact us with any further questions.
We will accept exchanges for up to 15 days from the day of purchase. Only for in-stock parts, all out-of-stock parts will be subject to a 10% processing fee.
Items purchased on sale, clearance, or with promo code will be allotted exchange credit equal to discounted purchase amount. Item(s) MUST be in original condition. Damaged, modified, or non-original items are not eligible for exchange.
 
All in-house rebuilds carry a 6 month warranty while performance upgrades carry a 3-month warranty against part defects. New Cartridge ( Core Assembly, CHRA ) installation carry a 1-year warrant starting from original invoice date. We will replace or repair the defective part upon warranty approval at our discretion. Refunds will only be offered if the defective part cannot be repaired or replaced.
​
All new turbochargers and parts carry a full one-year manufacturer warranty against defects. Please note the manufacturer may require inspection which may delay the process and can take 1-4 weeks to issue/deny warranty; we do not have control over manufacturer protocol or processes. 
​
Any warranty claim item or turbocharger must be returned in as-is condition without cleaning, disassembly, or alteration for inspection. Any item presented other than as-is condition will be void of warranty. 
The warranty does not cover misuse alterations/modifications made by purchaser, foreign part damage, abuse, negligence, oil starvation, accidents, or any other installation-related damages. Coverage encompasses the actual part up to the original invoice value. Consequential damage, loss of profit, or any other financial loss resulting from failed parts are not covered. 

If a warranty claim results in providing a turbocharger/product replacement, then the warranty period for the turbocharger product replacement will be the unexpired portion of the original warranty period for the turbocharger/product that was replaced.

*Any turbocharger or item left over 30 days will be sold to recover costs. 
​
For any warranty claims, please contact us prior to sending the parts at 305-685-1061 or
via e-mail at support@micturbo.com
Cores must be received within 30 days of service or warranty is void. Core charges and refunds range from $350+ depending on the turbocharger and condition of the core. Cores with fire damage, missing/broken pieces, water damage, disassembled, or broken parts are subject to credit reduction or no credit. We are not responsible for any shipping damages.