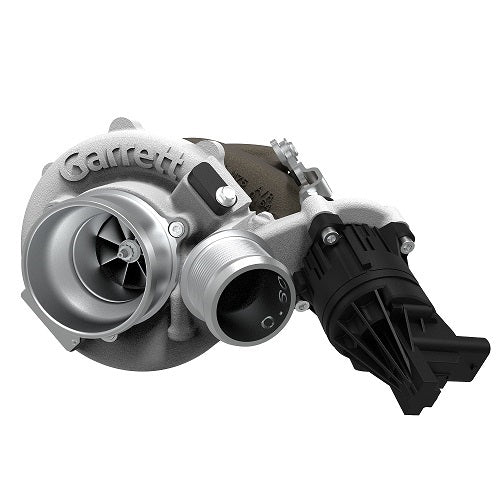 901654-5001W
Ford F150 Raptor 2017-2021 - Garrett PowerMax Turbocharger 3.5L EcoBoost Stage 2 Left Side Turbo Upgrade
Free standard shipping for purchases over $250 within USA
This Garrett PowerMax Turbocharger 3.5L EcoBoost Stage 2 Left Side Turbo Upgrade features a plug-and-play design in the stock location for a hassle-free installation. Equipped with fully OEM calibrated wastegate actuators, this upgrade turbo offers 54% greater flow than the stock turbos, supporting a range of 400 to 700+ BHP. It is compatible with 2017-2020 Ford F-150 and Ford Raptor models, making it the perfect choice for increasing your Raptor's/Gen 2 F-150 EcoBoost's horsepower.
Garrett's PowerMax Stage 2 Turbocharger offers an engineered increase in engine performance while preserving the original OEM installation specs for F-150 and F-150 Raptor (2017-2020). The direct-fit Stage 2 upgrade provides 54% more flow than its OEM counterpart and supports up to 700+ BHP. Compressor efficiency and flow can be attributed to the 60mm machined compressor wheel, and increased turbine flow is possible due to a 50mm Inconel turbine wheel and a 0.45 A/R turbine housing. This fully-assembled, calibrated turbocharger kit is designed as a perfect fit for the OE hardware.
FEATURES
Direct-fit Stage 2 upgrade (LH Turbo)

Compressor housing inlet (2.75") is larger than stock to allow for increased flow and optimized surge port

Adapter for stock inlet tube included with turbo kit

Turbo model: GT2260S

700+ BHP capability*

Complete assembly with calibrated electric actuator

Billet compressor wheel with 54% increased flow

Inconel turbine wheel with 52% increased flow

Modern compressor and turbine wheel aero

Tuned ported shroud for optimal compressor surge and choke performance

Speed sensor port: use PN 781328-0003 (street kit) or 781328-0004 (pro kit)
IMPORTANT NOTES
WARNING: The maximum allowable turbocharger speed is 176krpm. The use of this product above 176krpm is at the owner's risk, and can result in damage and premature failure. To protect the turbocharger from overspeed when operating, a speed sensor port is machined into the compressor housing for the fitment of speed sensor part numbers 781328-0003 (includes sensor and gauge), and 781328-0004 (includes speed sensor). Speed sensors sold separately.

This product is not approved for street use. Installation may affect vehicle's safety, warranty, and operating license. For details, contact your vehicle's manufacturer or turbo kit distributor.

Performance results of this product are highly dependent upon your vehicle's modifications and tuning/calibration. The target power has been calculated based strictly on choke flow of the compressor map (total turbo capability), which represents the potential flywheel power
Remanufactured/Rebuilt original turbo carry a 6 Month Warranty against defects. No gaskets included.
 *There is a $500 Core Charge included in price. Core must be received within 30 days to receive refund. If core is not received within that time the Warranty will be Voided. No Exceptions. 
 Returns are accepted ONLY for items purchased directly from MIC Turbo & Injection within 14 days of purchase in original condition and are subject to a restocking and handling fee between 15-30%. This fee will be waived if the parts received are not as described. 
Returned item(s) package(s) MUST include proof of purchase. Items will be verified, inspected, and processed upon receipt. Customer notification of item processing will be received via email and/or phone call. 
​Custom order items such as turbochargers or components, items that are damaged, missing parts, or not in original condition not due to our error will not be accepted for return or refund.
​Orders cancelled after 24 hours will be subject to a 10% restocking/handling fee. 
​Items purchased on sale, with a promo code, or clearance are final sale only.
 Refunds will be issued on original form of payment. No exceptions. Credit card refunds can be expected within 7-14 days.
Please contact us with any further questions.
We will accept exchanges for up to 15 days from the day of purchase. Only for in-stock parts, all out-of-stock parts will be subject to a 10% processing fee.
Items purchased on sale, clearance, or with promo code will be allotted exchange credit equal to discounted purchase amount. Item(s) MUST be in original condition. Damaged, modified, or non-original items are not eligible for exchange.
 
All in-house rebuilds carry a 6 month warranty while performance upgrades carry a 3-month warranty against part defects. New Cartridge ( Core Assembly, CHRA ) installation carry a 1-year warrant starting from original invoice date. We will replace or repair the defective part upon warranty approval at our discretion. Refunds will only be offered if the defective part cannot be repaired or replaced.
​
All new turbochargers and parts carry a full one-year manufacturer warranty against defects. Please note the manufacturer may require inspection which may delay the process and can take 1-4 weeks to issue/deny warranty; we do not have control over manufacturer protocol or processes. 
​
Any warranty claim item or turbocharger must be returned in as-is condition without cleaning, disassembly, or alteration for inspection. Any item presented other than as-is condition will be void of warranty. 
The warranty does not cover misuse alterations/modifications made by purchaser, foreign part damage, abuse, negligence, oil starvation, accidents, or any other installation-related damages. Coverage encompasses the actual part up to the original invoice value. Consequential damage, loss of profit, or any other financial loss resulting from failed parts are not covered. 

If a warranty claim results in providing a turbocharger/product replacement, then the warranty period for the turbocharger product replacement will be the unexpired portion of the original warranty period for the turbocharger/product that was replaced.

*Any turbocharger or item left over 30 days will be sold to recover costs. 
​
For any warranty claims, please contact us prior to sending the parts at 305-685-1061 or
via e-mail at support@micturbo.com
Cores must be received within 30 days of service or warranty is void. Core charges and refunds range from $350+ depending on the turbocharger and condition of the core. Cores with fire damage, missing/broken pieces, water damage, disassembled, or broken parts are subject to credit reduction or no credit. We are not responsible for any shipping damages.